In my never ending quest to stand up for the average server and also find things to write about on this old, tired ass blog, I have been alerted to a review on Trip Advisor that gives me pause. A seafood restaurant called Nautilus Seafood & Grill in Belfast, Maine left one customer disappointed because the waiter had the nerve to have a facial expression.
The reviewer had planned on having a relaxing afternoon with the family and seemed satisfied with the lunch until the end of service. She explains that she waited "a while" to pay her check, but we servers know that "a while" is the equivalent of about three to five minutes. In order to get her waiter's attention she waved her card and bill at him. This, apparently, is when things went from relaxing to disappointing, because she perceived that the waiter's muscles in his face caused him to express a facial reaction that she was none too pleased with. The humanity! The horror! He made a facial reaction!
She doesn't say what kind of reaction he had. It could have been one that said "Oh, shoot, I need to get over there and close that check as soon as I run these desserts." Or maybe it said "Golly gee, I hope I haven't made my customer wait too long." My guess, since the customer admits she was waving her credit card at him, was that the facial expression was one of "This bitch needs to stop with the waving of the fucking credit card before I punch her in the throat" but then the server realized that his inner thoughts were being played out on his face so he quickly corrected it.
When he returned to the table, she asked him if there was anything wrong and he told her, "No, we're good." However, he didn't make eye contact, again making Sally Sensitive feel that she was getting attitude. She and her family left feeling uncomfortable and not willing to pay that much for lunch with "that kind of service" again. Therefore: two stars!
What we have here is a customer trying to find issues when there are none; making a mountain out of a molehill. This server made a facial expression and she perceived it to be all about her. She must have forgotten that the restaurant does not revolve around her and that a server in a busy lunch scene may have dozens of other people to attend to. Just because he has a freakin' facial expression does not mean it's all about you. However, to be on the safe side, I would like to advise all servers, from this moment on, to avoid ALL facial expressions. When a customer tells you you a joke, DO NOT SMILE. We cannot take the risk that they may think we are laughing AT them rather than WITH them. Practice your noncommittal face in a mirror if you have to. Glaze your eyes over, relax all facial muscles and make sure that your face looks completely vacant and uninvolved. Basically, pretend you are Kim Kardashian in a Political Science class. I realize that by doing this we are taking the chance that a customer will leave a review that says we didn't look happy enough to be at work, but we this is what it has come to.
As for the customer who wrote the bad review, I want to write one for her: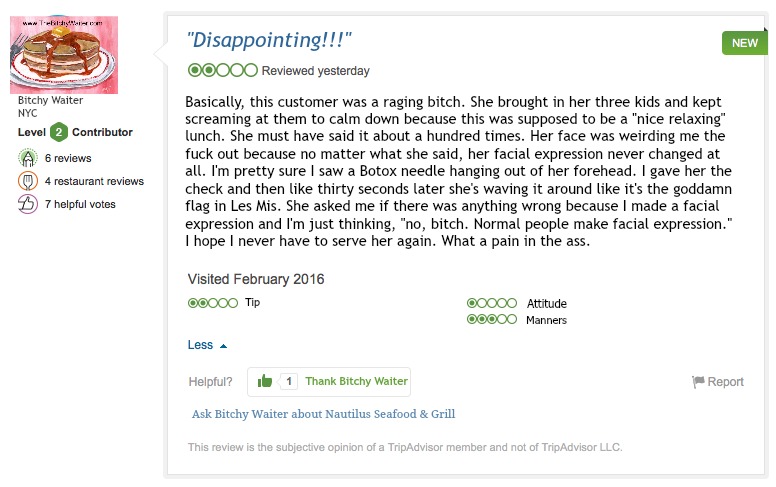 If you like this blog, you will love my book coming out in April. You can click here to preorder your copy on Amazon!
Now read one of these lame-ass posts: