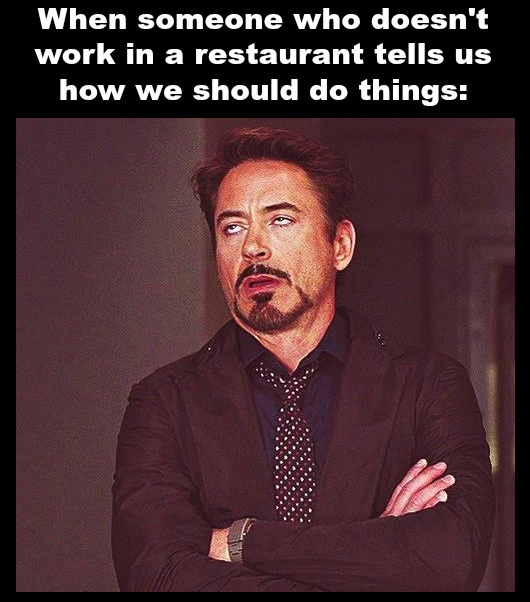 Tom Sietsema is the restaurant critic for The Washington Post and he eats out all the time, even "doubling up" on the occasional lunch or dinner just so he can share his restaurant wisdom with everyone else in the world. Thank you, Tom, for your service. Anyhoo, at the start of the new year, he wrote an article with 10 "resolutions" that restaurants should enact to make them better. You know, since he eats in restaurants all the time, he knows fucking everything about them, Right? Uh huh. Yeah. Sure.
Several people have sent this article to me get my take on it and, believe it or not, I actually agree with most of his points. Don't get me wrong, I still get rubbed wrong every time someone who isn't a restaurant worker or owner decides to write an article about our industry telling us all the ways we should do it instead. Please allow me to go down his list and discuss:
Honor reservations. Yeah, yeah, yeah, you don;'t want to wait for your reservation even though your table isn't it ready. I get it. I don't want to wait at the doctor's office until 1:30, when my appointment was at noon, but shit happens. Believe me, if we could tell customers to get the fuck out when they are done eating, I'd be the one to volunteer for that job every shift. But we can't and sometimes customers linger longer than they should. I do agree with his suggestion that restaurants could offer a free glass of wine or something if the wait is too long. That's a nice idea. Maybe we should give them foot rubs and blowjobs too.
Be willing to seat incomplete parties. No, no, no! Sorry about your grandma and the guy with the bum leg, but we can't do it. They may be "on the way" but that two minutes can easily stretch to ten fifteen minutes or even longer and it's going to throw everything off from drink orders to announcing the specials to serving the food. Every server has been burned by this: a party of eight, but only three of them are there and they persuade us to let them sit down. So we push the tables together for eight people and twenty minutes later we learn it's just going to be four of them But the four of them have spread out over two table and now we can't use it. You know what else that affects? Reservations, so if you get pissed off that your table isn't ready at your time of reservation, it might be because we were willing to seat an incomplete party. Fuck that.
Bring up the lights. What, so you can see that I didn't bother polishing the glasses or the silverware? I don't think so.
Keep menu introductions brief. I agree. I don't want to talk you anymore than you want to listen to me talk.
Learn to "read" guests. I agree. Every customer is different and I pride myself on being able to tell which one of my many personalities to turn on for which guest. I could ask the same of customers: read your server. If I look like I don't give a shit about the reasons you can't eat dairy, I don't want to hear it.
Do not ask diners for accolades, as in, "Is everything delicious?" I agree. I'll ask if it's good. You answer. That can be the end of our personal interaction.
Banish from your delivery the string of words "Are you finished working on that?" I agree, but jeez, come up with something original to complain about, Tom. You are about the one-millionth journalist to say that. Yawn.
Treat restrooms as if your parents are coming over. Yes, we all like to have clean restrooms. Sadly, most customers are fucking pigs who don't treat a public restroom as they would their own and they seem to pee and poop anywhere but the toilet. If the restrooms are a mess, I can guaran-fucking-tee it's the fault of the customers. But I'll tell the busser or the dishwasher…
Keep your website accurate and up-to-date. While I agree that the website should be up-to-date with menu and prices and clearly state the address and phone number, why does it have to have public transportation and parking information? Figure that shit out yourself, Tom. We can't do everything for you.
Remember that little things are big things. Yes, we should wipe crumbs from the table and return the correct change, of course. Diners will notice these things. You know what little things we notice, Tom? We notice when customers don't make eye contact or when they ask us a question and then don't listen to the answer. We notice when they take garbage out of their purse and drop it under the table and we notice when they never say please or thank you. So yeah, little things are big things.
Thanks for the article, Tom. Keep up the good work of eating for a living.
Now read one of these lame-ass posts: