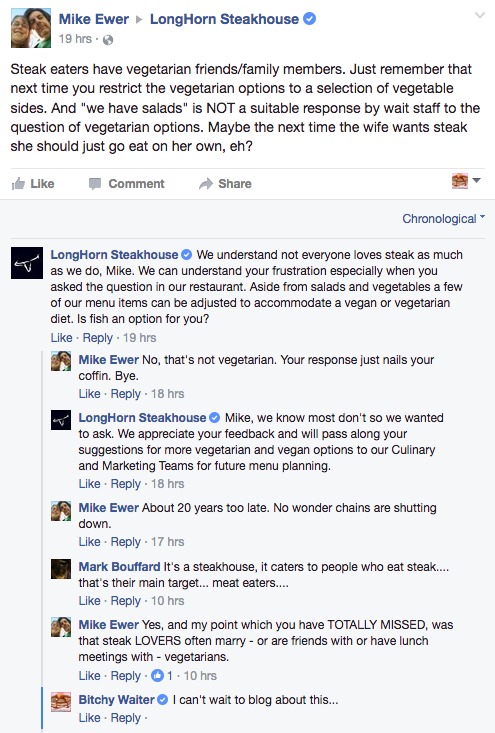 Sometimes I sit here at my computer struggling to find something to write about. Honestly, we all know this blog is basically a variation of about ten different topics that I just regurgitate in different forms. It's not always easy to produce a blog post for the dozens of people who enjoy reading them, but today I opened up my messages and someone sent me the story of Mike.
Mike recently went to LongHorn Steakhouse and was upset that they didn't have enough vegetarian options for him to choose from. At a steakhouse. It seems that his wife had a hankering for a hunk of beef. She hankered for a hunk of, a slab or slice or chunk of, a snack that is a winner and yet won't spoil her dinner, she hankered for a hunk of beef. Mike, being the loving and caring vegetarian husband that he is, accompanied his carnivorous lady love and when he asked about vegetarian options, the server, unsurprisingly, told him "we have salads." According to Mike's post on the LongHorn Steakhouse Facebook page, that is NOT a suitable response.
Actually, Mike, it is. If the restaurant doesn't have anything other than salads to offer vegetarians, it is the most appropriate response the server could give because I'm pretty sure this is what the server wanted to say:
Umm, you know you're at a steakhouse, right? Our kitchen is full of dead animals from chickens to fish to cows. Seriously, it's basically a slaughterhouse back there. Why the hell would you come to a steakhouse and get upset that we don't cater to vegetarians? Would you go to an Italian restaurant and get pissed off that the menu is full of pasta or go to a Thai restaurant and want enchiladas? Get the hell out of here, Mike. Let me focus on some folks who want to tear into a piece of meat and rip it apart with their incisors and canines. How about a baked potato that you can shove up your poop chute, Mike? Buh bye.
But no, the server simply said "we have salads." The server had restraint.
LongHorn Facebook page did reply to Mike and asked him if fish was an option for him as it is is for many vegetarians. Mike told them that eating fish is not vegetarian and that the response put the nail in the coffin for his relationship with LongHorn. "Bye," he says. However, it was not the final nail in the coffin, because Mike came back an hour later to reply again and then seven hours later he returned to post once more:
"…my point which you have TOTALLY MISSED, was that steak LOVERS often marry- or are friends with or have lunch meetings with- vegetarians."
Yes, Mike, there are some meat lovers out there who have inexplicably fallen in love with vegetarians. Not since Romeo and Juliet have we seen such star-crossed lovers. The trials you and your wife must face each day to live side by side, her with a giant turkey leg hanging out of her mouth and you with a Ziplock baggie of baby carrots in your murse. The next time your wife wants to satisfy her craving for meat, she shouldn't have to go alone. Either you find a restaurant that can please you both or you accept that you have a limited diet and you deal with it. It's not the responsibility of a restaurant to cater to the taste of every possible customer. It's the customer's responsibility to find a restaurant that suits them. If you want a lot of vegetarian options, you don't go to a steakhouse. And if you do go to a steakhouse, you accept that you may be limited to salad. You and your wife can make this work, Mike, I know you can. If Romeo and Juliet can live happily ever after then so you can you and Mrs. Meat. Oh, wait, Romeo drank poison to kill himself when he thought Juliet was dead, but she wasn't dead and when she woke up and saw him dead she ended up stabbing herself with a dagger. Hmmm, so that didn't work out for them exactly. Anyhoo, if you go to LongHorn again, just get a salad. And if there are some bacon bits on it, it's not like bacon is poison and it's definitely not worth stabbing yourself over.