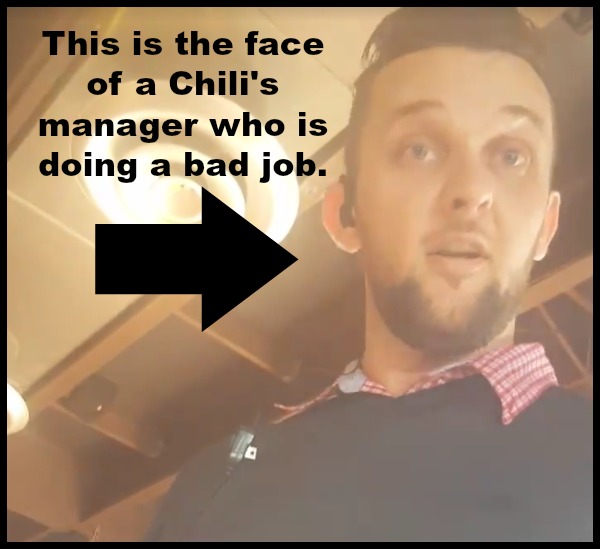 See that face up there? That is the face of a Chili's manager who realizes he has fucked up. Last Friday, Chili's offered free meals to our veterans in appreciation for their service. Army veteran Ernest Walker went to a Chili's in Cedar Hill, Texas to have his free 10 oz. Ancho-Crusted Sirloin or whatever, and soon had that meal snatched out of his hands when manager Wesley Parker no longer believed he had actually served in the armed forces. Ernest presented his military ID and also his discharge papers but Wesley still didn't believe him. By the way, he didn't believe that his service dog was legit either. Hmmm, why would a manager suddenly decide that Ernest was lying? Well, according to Ernest, an older man who was wearing a Trump t-shirt, told the manager that when he served in World War 2 in Germany, he didn't see any black people over there. Umm, okay. So Wesley, using the common sense that God gave a scuppernong seed, decided that Ernest must be lying. Yes, even though Ernest showed his military ID, was too young to serve in World War 2 even though African-Americans have served and in every war since the Revolutionary War, Wesley chose to believe the old white man in a Donald Trump t-shirt. Welcome to 2016, everybody!
This is when Ernest pulled out his cell phone and started recording this bullshit. Of course Chili's released a statement:
"We are aware of the situation that occurred at our Chili's Cedar Hill restaurant on November 11th. Our goal is to make every guest feel special and unfortunately we fell short on a day where we serve more than 180,000 free meals as a small token to honor our Veterans and active military for their service, hence these actions do not reflect the beliefs of our brand."
Ernest has hired Kim Coles as his attorney, but I don't think it's the same Kim Coles who was on "Living Single" from 1993 to 1998. Maybe it is, I dunno.
Either way, it should only be a matter of time before Chili's squeezes out a lifetime supply of Crispy Cheddar Bites and Quesadilla Explosion Salads for Ernest. As for Wesley, he better start dusting off the old resume, because I bet his days at Chili's are numbered. I'm sure he'll be fine though. He can tweet out to Donald Trump asking for a job and he'll probably get an cabinet position. With all of his experience managing at Chili's he seems like a shoe-in for Commissioner of the Food and Drug Administration. good luck, Wesley!
UPDATE: This story is getting all kinds of crazy. There are reports that the manager has been placed on leave from the restaurant. And then someone crawled out of their hole to put in their two cents on Facebook claiming that the veteran did not have any proof of his service and that the old white man was completely made up:
But then this picture came out that kinda proves that Ernest was in the army:
Man, who cares? It was a$12 meal and now Chili's has all this bad press. Was it really worth it??
Now read one of these lame-ass posts: