Two days ago I posted an article about a Texas Roadhouse receipt that had some fuzzy math on it when it came time to suggest certain tip percentages.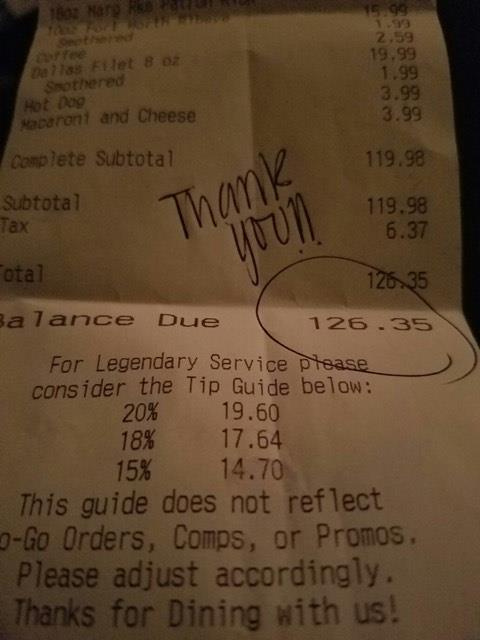 I questioned how they thought that 20% of 126.35 was 19.60 and requested that you guys go to their Facebook page and ask them about it the questionable totals. You did not disappoint. Dozens and dozens of you went there to express your concerns and Texas Roadhouse replied. Well, I what I should say is that the person who runs their social media page reached into their asshole and pulled out a response and then cut and pasted it on almost every comment. Eventually, it seems they stopped replying. Here is what they said before control/paste became too much trouble:
Carry-out items are not figured into the tip guide. In this instance, the 8 oz. smothered Dallas Filet was ordered as a carryout item. The total cost of the filet was $21.98. On the pretax amount, $119.98 minus $21.98 is $98. 20% of $98 is $19.60, 18% is $17.64, etc. At Texas Roadhouse, the strength of our brand is our people. We appreciate our server's efforts in delivering legendary service to each and every guest every day.
Umm, I don't know if I believe you, Texas Roadhouse. First off, how does the person who came up with this response even know that the 8 oz. smothered Dallas Filet was ordered as a carryout item? It doesn't say that on the bill anywhere, does it? Am I missing something? (And by the way, who the hell pays an extra 1.99 for gravy?) Did this person happen to be in Elyria, Ohio that night and happen to remember that this particular table? Doubtful.
Second off, plenty of people wrote to tell me that the tip guide may not include alcohol which could reflect in the tip totals. We can see at the very top of the receipt that there appears to be a margarita. I can't be sure because it looks like it's a 16 oz. cocktail which is pretty impressive. Maybe it's a 16 oz. margarita-flavored hamburger or something, I just don't know. If it is a cocktail, then they do include the alcohol on the tip guide if we can assume that the Dallas Filet is the only thing not covered in the total. I also was told that the tip guide is almost always before tax. I get that. Personally, I always tip on the taxed total, but that's just me and probably every other server who is reading this.
A few people told me I was "reaching" for a story here and that may or may not be true. (It's totally true.) My problem with tip guides is that too many people will look at the them and take them to be the gospel of tipping, not paying any mind to the fact that maybe it doesn't include alcohol or to-go items. If those items go into my sales total at the end of the night, I'm sorry, but I want a freaking tip on them. Why can't we just let customers do their own math and tip what they want to tip rather than having these tip guides that are full of fine print?
I also heard from several employees of Texas Roadhouse, many of whom told me that their restaurant did not have the tip guide on the receipt which means it varies from location to location. Maybe by sending people to the main Texas Roadhouse Facebook page, I was focused on the wrong target. The Elyria, Ohio location has their own Facebook page so let's ask them to get to the bottom of this. Go to their page and ask them to explain the totals and let's see if they come up with the same reply we were already spoon fed from corporate. Go ahead, do it. It's fun to make a big corporate restaurant try to prove that they think the strength of their brand is their people. Bitch please, we know the number one thing for you is the bottom line and right after that comes the customer. Your employees are on the list somewhere between parking lot cleanliness and food costs for Tater Skins.
Now read one of these lame-ass posts: