It's no big surprise that I don't have kids although I can see the benefits to having them. There was a brief period that my husband and I thought about adopting, but we went to Craigslist and found a housekeeper instead and the urge quickly faded away This time of year, I hear lots of parents lamenting about all the presents they have to buy for their children and the stress that comes with it and they all swear by the use of the creepiest thing I have ever heard of, Elf on the Shelf. It's this weird looking footless elf that parents use to blackmail their kids into good behavior claiming that the Elf on the Shelf is watching them all day and then flying back to the North Pole at night to report to Santa Claus what went on. Parents have told me that when their kids are misbehaving, all they have to do is go get the creepy fucker off the shelf and remind them this little tattle-tale asshole is going to make sure they don't get any presents. What a mind fuck. Isn't it bad enough that Santa Claus sees them when they're sleeping and knows when they're awake? It's like a police state or George Orwell's 1984, but instead of Big Brother, it's an elf with no feet who stares at you all day.
It makes me happy that I do not have to alter my behavior for fear that a $29.95 piece of plush is going to tell on me. However, it did make me want to write a list of 10 things I have done that the Elf on the Shelf would have definitely needed to tell Santa about.
1. That time I live Tweeted about the new crappy bartender at work.

We have a new bartender at work tonight and I shall attempt to "Live Tweet" or first shift together. http://t.co/umMDAWkWux

— The Bitchy Waiter (@bitchywaiter) October 23, 2014
2. That time I repeatedly taste tested the same bottle of wine over and over again until I was absolutely sure I would be able to describe it to my customers.
3. That time I punched in five minutes early but then went next door to eat a slice of pizza before work because I saw what the cooks had in mind for shift meal.
4. That time the customer asked for regular coffee but we only had decaf ready and I didn't feel like making another pot.
5. That time I drew for Secret Santa and I pulled out three names "by accident" and then chose which one I wanted to keep because if I'm gonna buy a present for one of the assholes I work with, I want to be happy about it.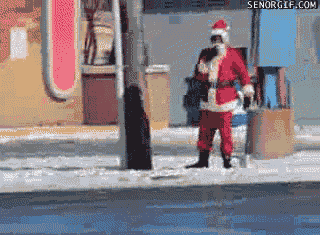 6. That time I took my shift meal for the sole purpose of Instagraming it an then just threw it away.
7. That time I told my manager I couldn't mop the floor that day because I had hurt my knee when really I just thought the floor looked clean enough.
8. That time I crop-dusted Table 16 because I knew they would assume it was their baby. Twice.
9. That time I didn't feel like rolling silverware, so I just threw all the clean silver back into the bus tub.
10. That time Table 5 told me they wanted a salad instead of fries, but I "forgot" to tell the kitchen so that when the fries came up, I had something to eat.