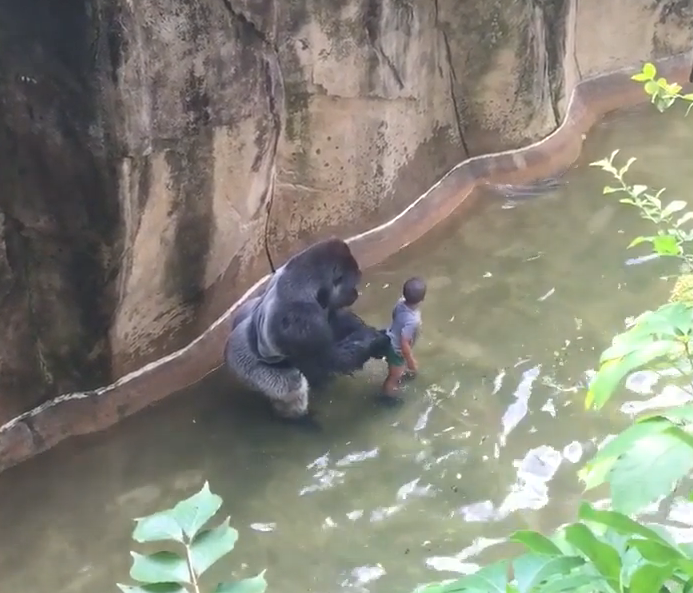 By now, we have all heard about the tragic incident at the Cincinnati Zoo that resulted in a 17-year-old, 400-pound silverback gorilla named Harambe being shot and killed after a 4-year-old boy fell into the enclosure and was at extreme risk. Zoo officials decided, that for the safety of the child, the gorilla had to be taken down immediately, explaining that a tranquilizer gun could have agitated the gorilla more and harmed the little boy. There are plenty of critics out there who question whether it was the right decision to kill the animal. There are also critics who blame the mother for not keeping a more watchful eye on her child, allowing him to crawl through a barrier, past some bushes and over the edge of a moat, falling 15 feet. Whose fault is this and who deserved to be punished? The gorilla, obviously. He was a monster.
Surely, killing an endangered animal was not an easy decision for zoo officials, but we are talking about a child here, people. A child who, for whatever reason, ended up someplace he should not be and was in danger. For the safety of that child, the animal clearly needed to be shot dead in its tracks. I propose that from now on, when a child is in any dangerous situation because perhaps the parent failed to pay attention for just a couple of minutes, that anything and everything should be done to make that child's safety the number one priority. And I'm not only talking about zoos, either.
Many times when I am at work, I have watched children wander away from their table and their parents and end up someplace they shouldn't be. Maybe they are in the middle of the dining room in a heavy traffic area where severs are whisking past with heavy trays of food, high overhead. One false step and that tray of food can come crashing down on that toddler. I have seen children stand directly in front of the swinging door to the kitchen; that same door that we furiously kick open when we are barreling out of the kitchen, in a hurry to serve a piece of apple cobbler to the woman at Table12 who had earlier said she was unable to eat gluten. If that child happened to be standing there at the wrong time, that door would pummel him into the wall, leaving him with a concussion, a broken bone or, at the very least, a bruised ego. It might also leave a stain on the wall that the server would have to clean up. So what should happen the next time a child has unknowingly wound up putting himself in danger in a restaurant because he took advantage of the thirty seconds his mom wasn't paying attention?
We should shoot the server. Yes, for the safety of the child, restaurant workers should be killed immediately.
Do not bother with a tranquilizer dart, because if a dart hits me, I will not fall to the ground right away. I will first say, "What the fuck? Who the fuck just shot me with a goddamn tranquilizer dart, bitches?" I will be angry and anyone around me will risk the wrath that comes from a bitchy server who has just been shot with a tranquilizer gun. Before the drowsiness overtakes me, I will kick and scream and, in my fit of anger, I may accidentally pick up a fork and poke a 4-year-old in the arm. For the safety of the child, simply grab the nearest rifle and shoot me between the eyes. Once I have fallen to the ground, my life's blood oozing from my body, only then will it be time to do two things:
Have the parent grab the child and tell him "I told you to stay close to me! No dessert for you!"
Ask the dishwasher to drag me to the basement and put me in the garbage area until trash night and then have him mop that shit up.
The whole Cincinnati Zoo event is a tragedy and maybe it was unavoidable. Maybe that 4-year-old little boy has the reflexes of a cat and the stealth of a ninja and his mother looked away for only half a second when he flew into the gorilla enclosure. Others will blame the zoo for not having a better system to keep people out of the enclosures, but if someone really wants to do something they can. A car alarm doesn't necessarily keep a car from being stolen, does it? Maybe the only way this could have been avoided was for the mother to have a leash on her child so that when she does look away for a few seconds, her stealthy, cat-like, ninja, 4-year-old boy won't be able to jump into a gorilla pen and create the need for the animal to be shot.