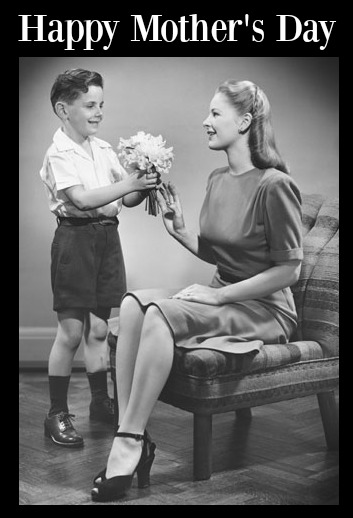 Everyone looks at Mother's Day differently. For those of us who are lucky enough to have our mothers in our lives, it is a day for us to call them or send a card or flowers. For some of us, it involves brunch, whether it be having it or serving it. However, for many people this is a day of sadness because they don't have the opportunity to see their mom. I think of my husband who lost his mother several years ago and who now looks at Mother's Day very differently than he used to. I also think of my own mother who lost her mother so many years ago and still feels sad on this day. And for some people, their mother is still with them but only in spirit because she is so very far away.
I once worked with a dishwasher we called Baby. He was from Mexico and had lived in this country for about three years. When he first started working with me his English was barely passable and he was probably about 19 or 20 years old. He told me of how he came to this country, crossing the border at night with a group of friends and cousins. It was scary, dangerous and they had very little food for their trip. He slowly made his way up to New York City in order to find a job and hopefully build a better life for himself. I often wondered what his life must have been like in Mexico if working 10 hours a days, six days a week as a dishwasher was better. Over the years, I got to know Baby and I watched him grow from a shy uncertain teenager to a happy confident young man. I knew that he took English lessons several times a week and his English was way better than my Spanish ever has been or ever will be. I also learned that he had dreams of being a singer and he once asked me to find him some Spanish language novels that he could use for inspiration when he wrote lyrics for the songs that he crafted on his guitar.
One day, I asked Baby if he ever missed Mexico, knowing that he was unable to come and go freely.
"Yes," he told me. "In three more years I will go back."
"Oh, so you don't want to stay here forever?" I asked.
"No, I am just here to make money and send it back to my mother so my brother and sister can go to school. My father used to do that for us, but he died, so as soon as I was old enough, that's when I came here."
All of a sudden, it made sense. He didn't do this so he could have a better life, he did it so his family at home could have a better life. He loved his mother so much that he was willing to sacrifice six years of his life opening the restaurant at 3:00 and closing the restaurant at 11:00 and washing every single dish that went through it. Eventually, he told me he had started working another job at a pizza place next door to us. For breakfast and lunch, he worked there as the delivery guy and then came to work dinner at our restaurant; 14-hour days, seven days a week. Again, most of the money was going home to his mother. Yes, he was here illegally, but what American is willing to do the job that Baby happily took? Not many.
I think of the $4.99 Mother's Day card I bought at CVS and feel like the world's shittiest son. I mailed it on Thursday so I'm sure my mom didn't even get it on time. Have I ever done anything as noble as what Baby did each and every day? I get to see my mom once or twice a year and I feel like it's not nearly enough. Yet Baby didn't have plans to see his mother for six whole years and every ounce of energy he used was to show his love for her.
Today is Mother's Day and if you still have your mother in your life, I hope you will take the time to appreciate her. My husband won't get to talk to his and Baby probably won't either because I'm sure he is working brunch and dinner all day and will be exhausted. But Mother's Day in Mexico is Tuesday, May 10th. I hope he will get a chance to call her on that day and tell her how much he loves her, although I'm sure she already knows that.
Do me a favor: call your mom today if you can so you. Too often, our opportunities pass us by, just like my husband's chance to speak to his mother and my chance to buy Spanish books for Baby.
Happy Mother's Day.
Now read one of these lame-ass posts: