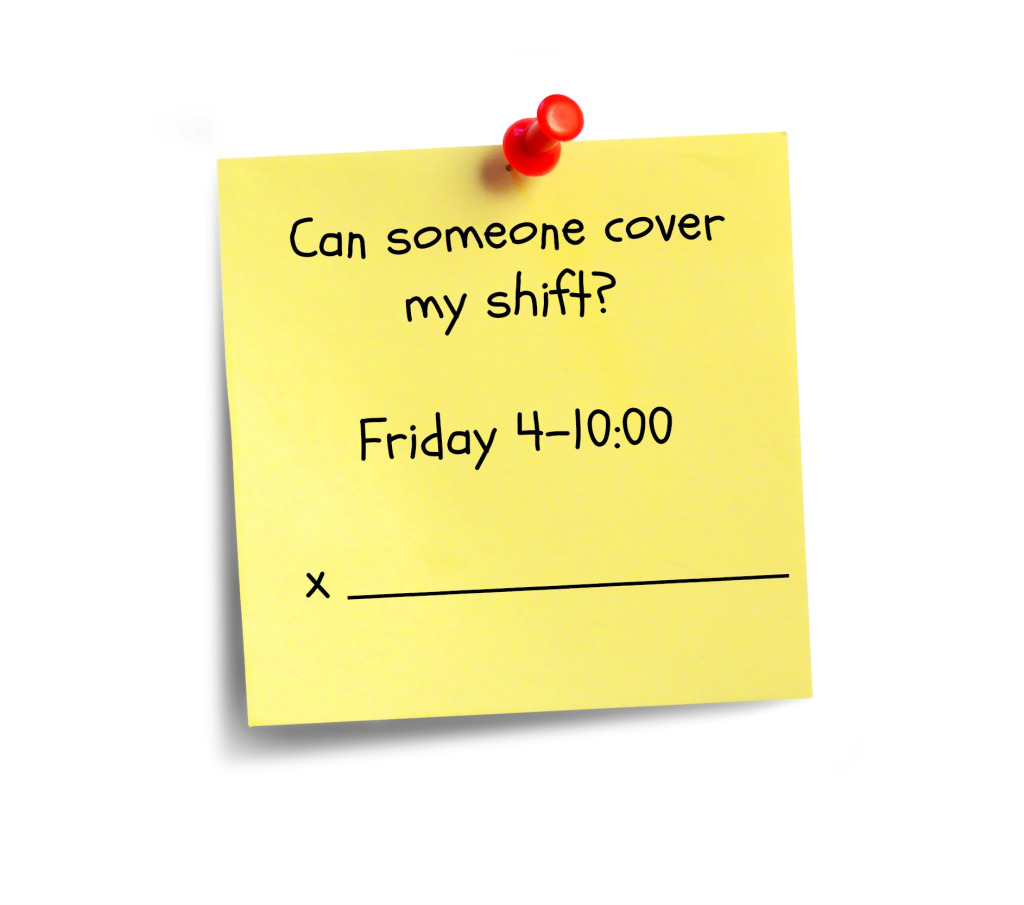 We in the world of restaurants are used to working varied schedules each week. For many of us, our days off are different each time the schedule is posted and it's sometimes hard to make plans far in advance without putting in the ever-important "schedule request." Luckily for me, I have a set schedule at both of my serving jobs which allow me to plan ahead but that has not always been the case.When a day comes up that you need off and you are scheduled to work a double you have no choice but to ask someone to cover your shift for you. Do you want to trade a shift or just give it away. Most of the time, you hope to trade it so that you don't lose the money, but when times are desperate, you get to the point of just giving it away. When things are
really
bad, you may even agree to pay money to someone to take your shift. There are usually the go-to people who are always broke and will always take another shift. We love them. However, if they can't take your shift off your hands it gets complicated. You have to find someone else who is willing to work for you but then not hold it over your head that you owe them your firstborn child. We know those people right?
"I can work for you, but if I do you will definitely owe me a huge favor."
Fuck you. I don't believe that when someone works for you you owe them anything. They may be doing you a favor, but it's not like they are doing out of the kindness of their bacon-wrapped heart. That person is working it because they want extra money. It's not like you are asking someone to work for you and then at the end of the night they put all the tips they made into an envelope with your name on it so you can pick it up when you come back to work the next day.
I recently got a text message from a co-worker, who thankfully does not read this blog.
It said: Hey, it's Kevin from work. Do you think you can cover 9/27, 4:00 to 10:00? It's my birthday and I was hoping to get it off. Please let me know.
I wrote back the next morning: I am so sorry I just got this text message. I am going out of town that day and not getting back until the day I have to go back to the restaurant.
He immediately responded with: Well, it's good to know all those covers I've done counted for not even one reciprocation.
Followed by my response: So you want me to just cancel my plane tickets? I'm sorry I can't work for you but I have two other jobs which allow me to pick up a shift only on Tuesday but the restaurant is closed that day.
He did not reply.
I really am going out of town that day (watch out, Miami!) and I worked it around my schedule so that I won't have to ask anyone to cover for me while I am gone. Kevin may have worked for me once in the past, but I wasn't aware that that meant I now owed him any kind of favor. I was under the impression that the $125 he made that night working my shift two months ago when I was away at a funeral was payment enough. I have three jobs so no, I don't have the ability to pick up shifts like some other people. Kevin thinks just because I am only at this particular restaurant a couple of shifts a week, I spend the rest of my time eating bon-bons and waiting for people to offer me leftover shifts.
So, no, Kevin, I cannot work for you on Friday the 27th. When your shift starts at 4:00 I will be on vacation. We land in Miami at 1:00 so by 4:00, I will have checked into my room, unpacked, slathered my self with sunscreen, found a chaise lounge next to the pool at The Raleigh Hotel and ordered my third or fourth frozen daiquiri. Have a happy birthday though. I will think of you that night when you are watching the clock and waiting for 10:00 to roll around so you can punch out and begin your birthday festivities. I will raise a glass in you honor. I will, raise it right up your ass, if you'd like.
Happy birthday!
Click here to follow The Bitchy Waiter on Twitter.
Click here to find The Bitchy Waiter on Facebook.
Now read one of these lame-ass posts: